Club History
---
The Gory Details
The club originally met fortnightly and membership was 2/6, but this soon
became 5/- with weekly meetings. Early activities included a club tournament, a lightning tournament, friendlies and visits by the late B.H. Wood, who gave simultaneous displays and lectures. Club sets and boards were not purchased until 1948!
In 1960, Mr. Gordon Mills (now with Chipping Campden) offered to give a simultaneous display, with a contribution to club funds of 5/- for each loss and 2/6 for each draw. He was relieved of £1-12-6d for his troubles, and thanked accordingly !!
By 1963 the 1st team was in Division 3 of the BDCL and the 2nd team was in Division 6 out of 7. A Mr. R.C.Reynolds (No relation, honest) took over as Secretary. In 1966, he was succeeded by Graham Lightfoot, who proposed that 3 teams be entered to the league. A surplus in funds was recorded for the first time. The first club clock was purchased in 1967. 1968 saw all 3 teams promoted.
In 1972, the club moved from the Churchill Club, to the New Inns, Acocks Green. The first Summer Tournament was held in that year The club moved again in 1974 to Archbishop Ilsley School. Divisions 1-5 in the BDCL were increased to 8 boards in 1976. Kevin Yeomans became U-14 Warwickshire Champion and Mark Saunders became Secretary. The club moved to Victoria Road in 1979 and was then able to open on Tuesdays and Fridays.
The Tamworth Trader Trophy was won in 1980, resulting in the scary photograph below : from left - Geoff Howard, Glen Davies, John Llewelyn & Dave Brown receiving the trophy. On the right, a rather youthful Kevin Yeomans, with Dave Gostelow behind him.
Friendly matches against South Birmingham started around 1984. Above is the match card of the 1986 match, a result in favour of Olton, which would be a rarity today. The Summer Tournament had been running for several years and was won by Martin Smyth of South Birmingham in 1985, 6 and 7.
The Division 1 team finished 3rd in 1988, its highest achievement up to that point. Patrick Finglass competed in the World Junior championships in Paraguay. In 2001, he was to become the Captain of the runners-up in 'University Challenge'. Tony Russell shared the Division 6 Individual trophy.
An open air match against Solihull was first held in 1991, with matches being played in subsequent years against Solihull, Shirley and South Birmingham. Bill Yeomans, who has played for the club for over 30 years, won on board 19 in the annual friendly match against South Birmingham to take the match 10½-9½, with seconds to go. The Finglass family won 4 titles at the Stafford junior congress.




BDCL divisions returned to 6 boards in 1993, resulting in 5 teams being entered. The club entered the Leamington League and won seven out of the next nine League Championships. The BDCL Lightning Tournament (above, right) was won five times and has been hosted by the club three times.
Division 2 were promoted at the end of the 93-4 season, and reached the Terrill Trophy semi-final. The club celebrated 50 years in 1995, with a 50 board match against South Birmingham.
The National Club Intermediate plate was won in 1996 and the club moved to its current home, Tyseley Working Mens Club. The Barrington Plate was won by Division 6 in 1997.
The first team achieved second equal in Division 1 in the 1999-2000 season, narrowly missing out to South Birmingham.
The 2001-02 season saw Olton teams in the top 3 Divisions. Alan Lloyd scored an impressive 26½/31 in all competitions of the Birmingham and Leamington Leagues, against very strong opponents.
The Homer Trophy was won by Olton I in 2002. The Leamington League Open cup was shared for the third year in a row, this time with Nuneaton. Olton's top players retained their grip on the League Individual Lightning Trophy, Alan Lloyd taking the title from Phil Holt. Phil regained this though in 2003. Other successes saw Division 5 win the Barrington plate and Andy Cottom retain his Division 3 individual title.
The 2004-5 season saw the Division 1 side win the Terrill Trophy, the first time the club has won this competition. This coincided with the Division 2 side winning the Championship and being promoted to Division 1. Andy Cottom again won the Division 3 individual, after losing out the previous year. The Leamington League cup and League Championship were both won. This feat was repeated in 2005-6 and the BDCL Division 4 side won the Homer Trophy in that season.
From 2007 to 2009, there were a number of wins in the Leamington League, Open cup and Lightning championships. Birmingham League teams were now in Divisions 1, 2A/2B, 4 and 6.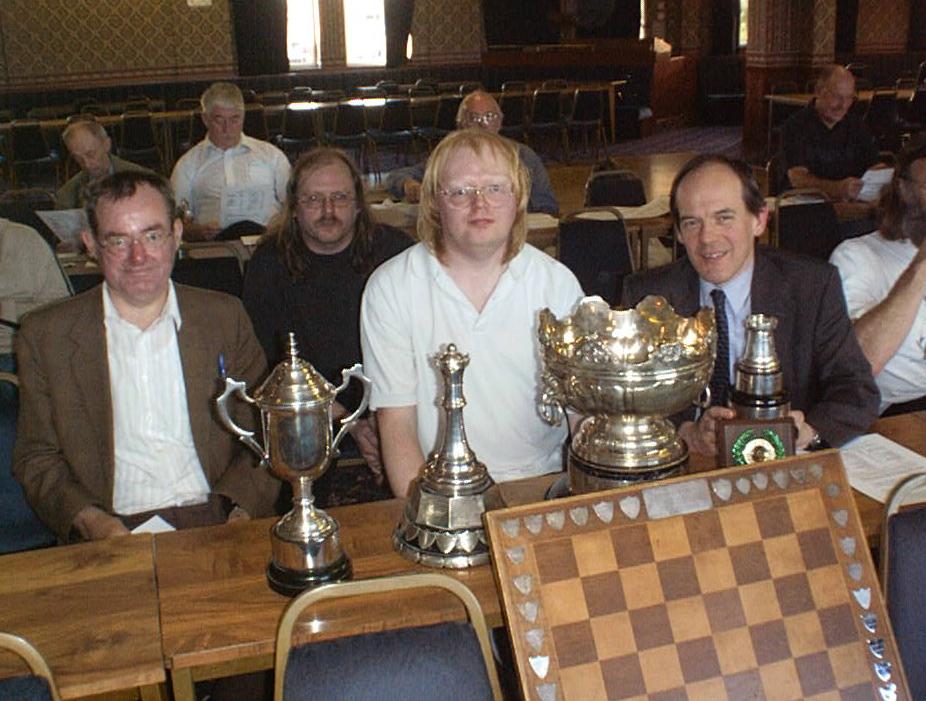 The 2010-11 season saw teams in Divisions 1,2,3,4 & 5 and the Leamington League/Open cup championships retained. John Llewelyn won the Division 4 individual trophy. In 2011-12, the LDCL title was lost on tie break, but the open cup was retained and Phil Holt again won the Lightning trophy. The Div.1 Birmingham League team were runners up in the Homer Plate and also finished second in the League after a play-off. Division 3 were relegated, as were Division 5.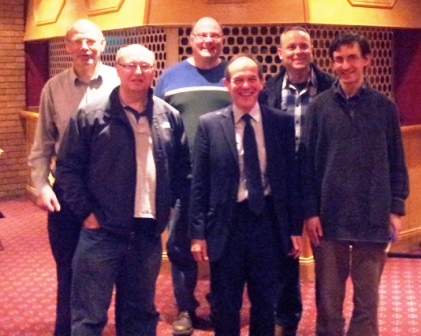 L-R : Dave Gostelow, Rob Wallman, Richard Smith, Alan Lloyd, Phil Holt & Mark Cundy - the Division 1 team
The 2012-13 season saw the introduction of the ECF Membership scheme. Birmingham League Division 4A went back up after finmishing Champions and also won the Townshend Trophy. The Leamington Division 1A side won the League Title and Open Cup Double. A team entered in Division 4 won the championship at the first attempt. Phil Hol again won the League Lightning Tournament.
L-R : Jeff Elson, Garry Evans (Capt) & Paul Kelly from the LDCL Championship team. Craig Mills & Garth Evans also took part.
---
Significant Dates
6th November 1944 - club formed

1945 - League entry

1956 - 2 teams entered in BDCL

1966 - 3 teams entered in BDCL

1969 - 1st team reached Division 1 ; 4 teams entered in BDCL

1972 - Moved to New Inns ; First Summer Tournament

1974 - Moved to Archbishop Ilsley School

1977 - Jim McDonald won Division 4 Individual

1979 - Moved to Victoria Road ; Alan Lloyd won Division 2 Individual

1980 - Won Tamworth Trader Trophy

1982 - 5 teams entered in BDCL

1989 - Newsletter launched ; Division 8 won Townshend Trophy

1990 - Patrick Finglass won Division 8 Individual Trophy

1991 - 1st open-air friendly match

1993 & 94 - Olton A LDCL Champions

1995 - 50 years celebration match held with South Birmingham

1996 - Won National Intermediate plate Trophy ; Division 3 reached Terrill Final

1996 - Moved to Tyseley W.M.C

1996-9 BDCL Lightning Champions

1997 - Division 6 won Barrington Plate Trophy ; BDCL Centenary celebrated

1997-2001 - Olton A LDCL Champions

2000 - 2nd in BDCL Division 1

2000-02 - Shared LDCL Open KO Trophy

2001 - Website launched ; Phil Apostolakopoulos won Division 8 Individual

2001 - Phil Holt won LDCL Lightning

2002 - Division 1 Won Homer Trophy ; BDCL Lightning Champions

2002 - Alan Lloyd won Leamington League Lightning Tournament

2002-3 - Andy Cottom won Division 3 Individual ;

2003 - Phil Holt won Leamington League Lightning ; Division 5 won Barrington Plate

2004 - Olton teams won sections A and B of BDCL Lightning Tournament

2004 - Robert Reynolds won LDCL 5-Minute Tournament

2005 - Division 1 win Terrill Trophy

2005 - Division 2 win Championship

2005 - LDCL Open cup and League championship both won

2006 - LDCL Open Cup and League Championships retained

2006 - BDCL Division 4 Win Homer Trophy and promotion

2007 - BDCL Division 3 team promoted for second season

2007 - Leamington League Division 1 won

2007 - Leamington League Lightning won by Phil Holt

2008 - Leamington Open cup won

2008 - BDCL Division 5 promoted

2009 - Leamington League and Open Cup won

2009 - Leamington League lightning won by Phil Holt.

2009 - Bramwell Garner wins BDCL Division 6 individual

2010 - Leamington League Title and Open Cup retained

2010 - John Llewelyn won Division 4 individual

2011-12 - Leamington Open Cup retained ; Phil Holt won LDCL Lightning

2011-12 - Homer Trophy runners up, BDCL Div. 1 Runners-up

2012-13 - Division 4 Champions, Townshend Trophy winners

2012-13 - LDCL Division 1 & 4 Champions, Open cup winners.

2012-13 - Phil Holt LDCL Lightning Champion.
---
Roll Of Honour
H.K.Bailey - Chairman 1944, Honorary Life Member 1972
H.T.Lees - Life President 1949
G.M.Mills - Chairman 1957, Secretary 1960-3
H.Cattell - Honorary Life Member 1968
D.R.Brown - Secretary 1968-76, 1978-89
W.Yeomans - Life President 1995