---
Latest Results
Birmingham League
Division 2 have drawn with Solihull
Division 3 have beaten Sutton Coldfield
Leamington League
Olton 3C have beaten Leamington B
---
Friendlies 2017
A friendly match against Shirley & Wythall took place at Wythall House on Thursday 17th August. Details are here...
---
Fixtures 2017-8
The Birmingham and Leamington League dates for next season are here...
---
Summer Tournament
The tournament is under way and the results will appear here...
---
Leamington League Lightning Tournament
The tournament took place at Solihull Blossomfield club on Wednesday 26th April. Phil Holt was unavailable this year, but Robert Reynolds, Mark Cundy and Alan Lloyd took part in a strong field of 34 players. All started fairly well, but it was Alan who emerged into the lead after 5 rounds with a perfect score.
Slowly, the contenders faded away and by round 8, a win would see Alan as champion wuth a round to spare. This was duly completed and finished off nicely with another win in round 9 to complete a perfect score. Mark Page of Kenilworth came in second on 7 points and Mark & Robert were in a chasing pack on 5½/9. The trophy was presented by Leasgue Chairman Ben Graff.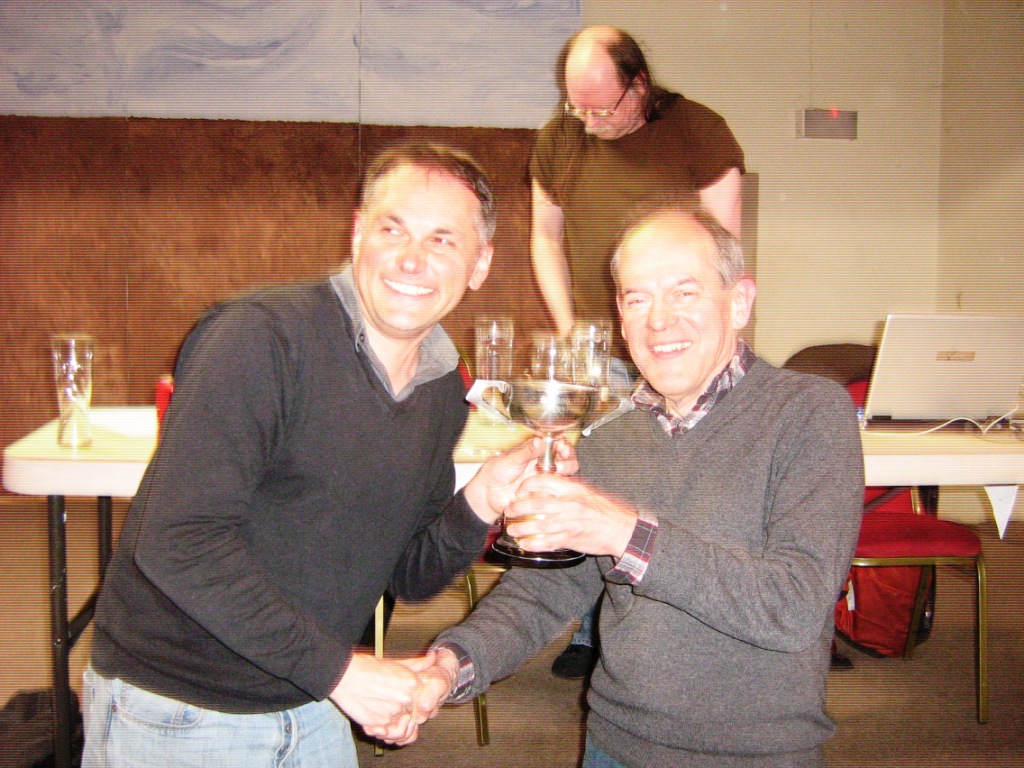 ---
Newsletter 111
The latest club newsletter is now out. Click here...
---
Club Championship
Tom Evans (Snr) has won the Club Minor Championship, after beating John Clulee in the final.
---
Latest results
Division 1 have beaten Bushbury and drawn with South Birminghasm D.
Division 2 have beaten beaten Warley B, but lost to their A side.
Division 3 have lost to Shirley and drew with Sutton Coldfield B.
Division 4 lost to Westminster and Bushbury.
Leamington League
Olton 1A have beaten Solifull A but lost to Solihull B. They have won the League Championship by one point from Kenilworth.
Olton 2B have beaten Kenilworth B and C and await the result of the final Kenilworth match.
Olton 3C have lost to Banbury and drawn with Shirley to finish second.
Worcestershire League
The team have beaten Kidderminster and lost to Halesowen. They are 2½ each in the return fixture..
---
South Birmingham Friendly
The 30th annual friendly match against South Birmingham took place at Moseley All Services Club on Monday 5th September. Olton were again outclassed. the score was 13½-7½ to the home team. Details can be found here.

---
Newsletter 110
The latest newsletter can be downloaded here...

---
Club 5-minute Tournament
The club held a 5-minute tournament on Tuesday 9th August. This was won by Phil Holt on 6/7. Three people were equal second on 5 points - Robert Reynolds, Mark Cundy and Paul Hodgskin.

---
Fixtures 2016-17
Fixtures for Birmingham & Leamington Leagues are now available.
---
Club Championship
Robert Reynolds won the club championsip, beating Mark Cundy in the final. Paul Hodgskin won the Minor Championship, beating Tom Evans (snr).
---
Phil Holt Simultaneous
Phil Holt gave a simultaneous display on Tuesday 2nd August. He won nine games, drew one and lost two,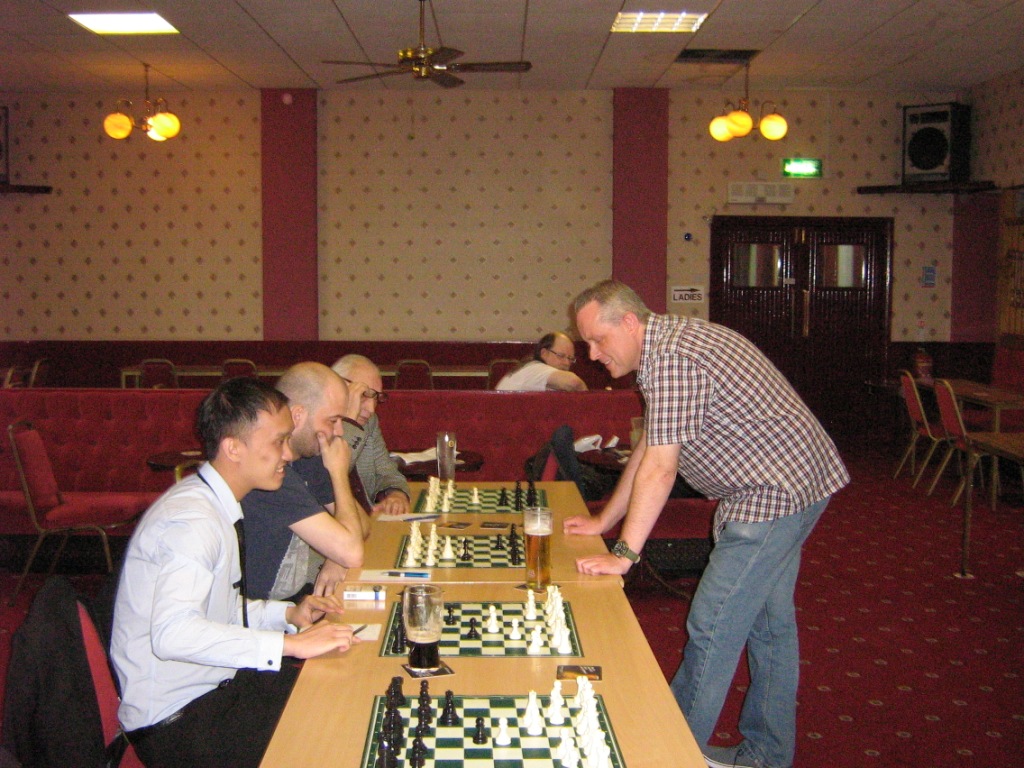 ---
Club AGM and Summer Tournament
The AGM took place on Tuesday 10th May at 7:30pm. The Summer Tournament started on Tuesday 17th May and was played over the following 9 weeks. 7 rounds Swiss. The final results are here...

---
New website
This is the first update of the new website.
---
BDCL Lightning Tournament
The Birmingham League Lightning Tournament took place at the club on Tuesday 15th March. Teams of 4 competed in graded sections at the rate of 10 seconds per move. Section A of 6 teams included Olton A, who scored 9½ points and finished 3rd. Oltron B were last with 2½ points. Section B was a four-team section. in which Olton C were 3rd on 2½ points.
---
Newsletter 109
The latest newsletter is now available here...
---
Winter Tournaments 2015-16
Two winter championship tournaments are being run during the season. The open and major sections have been drawn into two groups, qualifying to semi-finals and a final in each section. The draw appears here.
---
South Birmingham & Shirley Friendly matches
Olton played Shirley at Wythall House in a 13-board friendly match on Thursday 13th August. This was drawn 6½ each. The club then hosted South Birmingham on Tuesday 1st September, in a 23-board match. This was lost 14½-8½. More details can be found on the Friendlies page.
---
Worcestershire League
The club has entered a team in Division 2 of the Worcestershire League. More information is available on the Worcestershire page.
---